Eggy Party
Eggy Party: A Quirky and Cute Competitive Mobile Game
Eggy Party is a delightful and charming mobile game that introduces players to a world of adorable egg characters and a series of whimsical and entertaining party events. Developed by NetEase Games, this Q-style competitive game offers a unique and enjoyable gaming experience that's perfect for both casual and competitive players.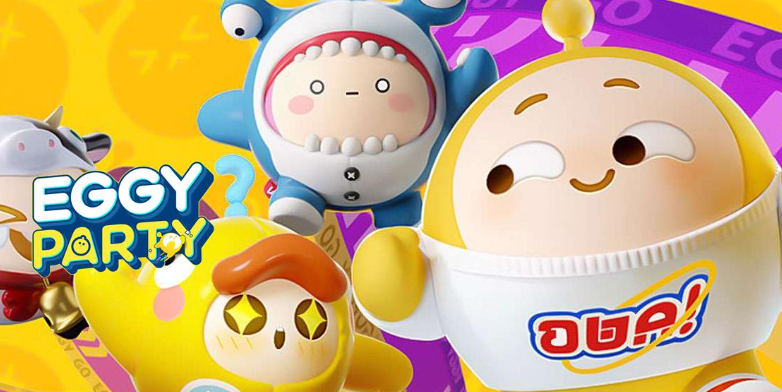 What makes Eggy Party so special:
Cute and Quirky Eggs: At the heart of Eggy Party are the lovable egg characters that serve as the game's protagonists. These eggs are not your typical, run-of-the-mill characters; they come in various shapes, sizes, and expressions, adding a healthy dose of whimsy to the game.
Fun-Filled Party Events: The game revolves around a series of party events, each packed with fun and exciting challenges. From racing to puzzles and everything in between, these events keep the gameplay fresh and engaging. Players can expect a different experience with each event.
Competitive Gameplay: Eggy Party is all about competition. Players will face off against each other in these mini-games to prove their skills and claim victory. It's the perfect opportunity to challenge friends or meet new rivals.
Casual Accessibility: While Eggy Party is competitive, it's also designed to be accessible to a wide range of players. Whether you're a seasoned gamer or a newcomer to mobile gaming, you'll find it easy to pick up and enjoy the game.
Strategy and Skill: Despite its cute and casual appearance, Eggy Party requires strategy and skill to master. Players must think on their feet, make quick decisions, and outsmart their opponents to come out on top.
Social Interaction: The game encourages social interaction, making it an ideal choice for playing with friends or connecting with new players. You can join forces with friends or challenge them in head-to-head competition.
Endless Entertainment: The diverse range of party events ensures that Eggy Party offers endless entertainment. You can always look forward to a new challenge and a new chance to test your skills.
Vibrant and Whimsical Design: The game's design is characterized by vibrant and whimsical visuals. The cute and colorful graphics complement the light-hearted and fun-loving atmosphere of the game.
In summary, Eggy Party is a mobile game that brings adorable egg characters to life in a world of entertaining and competitive party events. With its quirky charm, accessible gameplay, and the opportunity for endless fun and challenges, it's a perfect choice for both casual and competitive gamers. Eggy Party invites you to join in on the fun, interact with friends, and embark on a cute and competitive gaming adventure that's sure to put a smile on your face.